Car dealership proposal at busy south-end intersection fumes homeowners
Updated: June 25, 2018
Agnes Warda (centre) is president of the Glens Community Association, which is upset by the proposal of a car dealership on a choice piece of land on at the corner of Prince of Wales and Hunt Club across from The Met church. About a 100 local residents (including, from left: Pat Logan, Jacek Warda, Dick de Jong and Loraine McInnes) showed up to a community meeting recently to discuss the use of the land, which Ms. Warda says the city promised would never sell to a car dealership. JULIE OLIVER / POSTMEDIA. The stretch of land which corners Prince of Wales and Hunt Club and backs onto the Rideau River. JULIE OLIVER / POSTMEDIA
A Google Earth map of 2175 Prince of Wales Dr., outlined in purple, included in a development application for the property submitted to the city by planning consultant Novatech.
An auto dealer wants to lock down a quadrant of one of the busiest intersections in Ottawa, but nearby residents and the local councillor are hoping to   put the brakes on a plan that would build at least one car dealership on a field near the Rideau River.
Anyone who regularly drives on Prince of Wales Drive would know the land well, mostly for its lack of development on what could be considered a gateway to urban Ottawa. The 7.95-acre property at 2175 Prince of Wales Dr., near the southeast corner of Hunt Club Road, is along a commuter straightaway that's packed each day with rush-hour traffic.
In other words, the perfect spot for an auto company looking to market its latest vehicles. Myers Automotive Group likes the idea of a dealership there . The Glens Community Association hates it.
Agnes Warda, president of the community association, said residents are mostly concerned about increased traffic and the potential for contaminating the Rideau River.
"Let's put something that would add value to this particular area," Warda said. "We have so many troubles getting out of our community, we don't need an extra source of traffic."
A planning application calls for the land to be zoned as industrial with a list of 47 permitted uses, including an auto dealership, although it doesn't specifically call for a dealership. Myers, however, has indicated its interest in building a dealership on the land.  According to an addendum to the application, 31 per cent of the property's area would remain undeveloped, particularly along the river. Stormwater would be contained and directed to the treatment facility. Oil and lubricants would stay in the building and be managed according to provincial regulations, the document says.
Jack Stirling, a development consultant working with Myers, said the company continues to talk with the city on issues of traffic, property access, building orientation, lighting and parking.
"Myers is confident all these matters can be resolved through the rezoning/site plan approval process," Stirling said in an email. "As you know, automotive sales is undergoing dramatic changes, ranging from electric and autonomous vehicles, less servicing requirements and longer servicing intervals. As well, the design and architecture of dealerships continue to evolve, with a higher standard of architecture and street presence."
Myers envisions one dealership, with the potential of a second dealership on the property, Stirling said.
It's a tricky property for development since it's in the "airport operating influence zone" where new residential development and other noise-sensitive land uses are restricted. Accessing the property from the southbound lanes of Prince of Wales Drive could be difficult because of the traffic, possibly requiring a rule that only right turns onto the property and right turns out of the property are allowed.
Plus, there are sensitivities that come with abutting a heritage river. The National Capital Commission and Parks Canada could be involved in the approval process. Ecology Ottawa has raised concernsabout the proposal when it comes to protecting the Rideau River and the greenery around it.
Another hurdle is the city's development vision for important waterways. The official plan calls for the protection of the natural environment around the Rideau River and specifically guards against land uses requiring outside storage and large paved areas.
Knoxdale-Merivale Coun. Keith Egli is siding with constituents who oppose a car dealership for the land.
"At first blush, it just doesn't smell right," Egli said.
A planning application for the land has been kicking around for almost 10 years. The Dilawri Auto Group previously looked at building a car dealership on the land but abandoned the plan, Egli said. The Myers proposal came up about a year ago.
A recent public meeting where people discussed the Myers proposal attracted more than 100 people, Egli said.
The city's planning department is reviewing the proposal and hasn't made a decision.
"It's a difficult piece of property to market. I understand that," Egli said, but residents have told him that the one development they're strongly against is a car dealership.
Egli said he asked that a site plan proposal be filed alongside the rezoning application so the public can understand how a car dealership would be positioned on the property and how vehicles would enter and leave the business. Usually site plans come after council approves a rezoning application.
There is no timeline yet for the application to be considered by the planning committee and council.
Nicole Deschesne's house on Waterbend Lane is one of the closest to the site. She has lived on the quiet dead-end street for 16 years and accepts that the landowner has the right to develop the huge grassy property across from her house.
According to Deschesne, Myers seems more "tenacious" about building a car dealership than Dilawri was.
"There's a lot we'd be willing to support," Deschesne said. "A car dealership is one of the worst choices."
Flight Training at the Ottawa Airport: A Threat to Public Safety and a Private Nuisance
It is the position of the community that the small engine aircraft pilot training which takes place at the Ottawa Airport primarily using runway 04-22 is a threat to the safety of the citizens residing in several communities located in close proximity to the Ottawa Airport. The noise generated by the aircraft negatively impacts the quality of life of local residents and significantly and unnecessarily interferes with the quiet enjoyment of our homes and constitutes a nuisance.  The aircrafts generate noise of 60 to 75 dB. The aircrafts fly from dawn to dusk, seven days a week and interfere with the community daily. The frequency of the overflights is often every 1 to 1.5 minutes and in many cases as frequent as every 40 seconds. The impact of the noise and pollution is discussed in detail in the report and recommendations are made to the Minister. The main recommendation is that pilot training should be moved to rural airports.
The working committee  is seeking your support.
Not all areas of the Glens are similarly affected. Read the report and contact your executive   if you share their concerns   Airport report 12 Mar 2018S
A ban on unsolicited door-to-door sales of certain household appliances will take effect March 1st in Ontario. Businesses will only be able to sell to a consumer at their home if the consumer has contacted the business ahead of time and invited them to their home for the purpose of making a sale.  These rules will apply to the following items:
Air cleaners
Air conditioners
Air purifiers
Duct cleaning services
Furnaces
Water filters
Water heaters
Water purifiers
Water softeners
Water treatment devices
Bundles of these goods and services
Who is NOT banned?
While the province's ban on unsolicited, door-to-door sales covers most heating, air and water services, it does not apply to telecommunications companies, home maintenance services or charities.  If after March 1st, a consumer is pressured into making a sale without having contacted the business ahead of time, the contract will be considered void, and consumers will be able to keep the goods and services with no obligations.
Businesses will also be required to keep a record of how contact with the consumer entering the contract was made. Seniors are particularly vulnerable to predatory door-to-door sales as many are retired and home during the day to answer the door.
This Saturday, February 24 MPP MacLeod is hosting an free pancake breakfast event at Tanglewood Hillside Community Centre (30 Tanglewood Drive) from 10:00 AM -12:00 PM where our local community paramedics will be performing wellness checks such as flu shots, checking blood pressure and answer general health questions. I hope you can make it!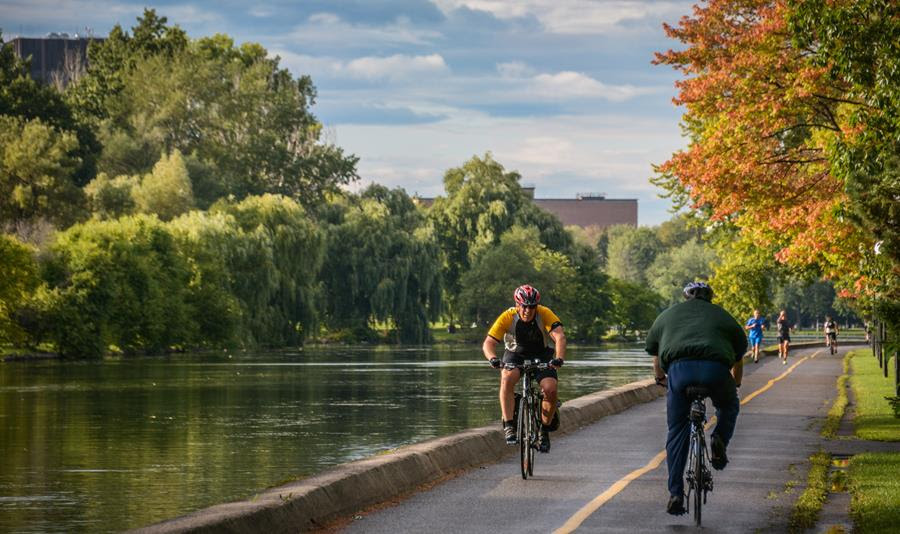 Renewal of the Strategic Plan for the Capital Pathway:
Public Consultation
The NCC invites you to a workshop to discuss the future of the Capital Pathway, and participate in the review of the vision and strategic directions for this exceptional multi-use network.
During this exercise, you will have an opportunity to discuss some of the following themes and explore possible solutions to the issues raised.
Themes:
Integrated, improved network
Multi-use, user-friendly pathways
Greater public safety
Superior, resilient facilities
Territorial and seasonal expansion
Join us for this discussion, and help shape the future of the Capital Pathway.
When?
Wednesday, February 21 and 22, 2018
6 pm to 8:15 pm
Where?
NCC Urbanism Lab,
40 Elgin Street, 2nd Floor, Ottawa
Reserve early. Space is limited. Please register by noon on February 19, 2018.
Universally accessible.
Join us @ Beau's Oktoberfest
on September 22 & 23!
Oktoberfest is Wunderbar!
Live music on two stages, 26 Beau's beers and over 50 guest taps,
delicious cuisine from 28 local restaurants, activities, a kinderfest
for children and so much more. See you there, cheers!
Rideau River Mapping Public Open House
The Rideau Valley Conservation Authority (RVCA) has completed two hazard mapping studies for the Rideau River: Hogs Back to Kars and Kars to Burritts Rapids. These studies update existing mapping in some areas and new mapping in others. Both Rideau River studies look at identifying two main types of hazards along these stretches of the watercourse: flooding and slope stability.
The goal of this mapping is to help ensure that sound planning decisions are made – keeping people and property safe. Accurate engineered hazard mapping is the foundation of effective floodplain and resource management.
Members of the public are encouraged to attend the open house and/or provide comments on the mapping. Conservation Authority staff welcome historical records of past flood events, news clippings, photographs and even anecdotal stories to help confirm the reasonableness of calculations and resulting hazard mapping. For those unable to attend the open house, mapping can also be seen online at www.rvca.ca and comments sent to Ferdous Ahmed, RVCA Senior Water Resources Engineer at:Ferdous.Ahmed@rvca.ca.
Public Open House
Wednesday, September 27, 2017
4:30 to 7:30 p.m.
Rideau Valley Conservation Centre
3889 Rideau Valley Drive
Manotick, Ontario
Grenfell Glen Fall Clean-up
Saturday, September 23, 2017
10:00-11:30 am
(Rain date Sunday, October 15th, 10 to 11:30 am)
Garbage bags & vinyl gloves will be available at Pratt/Grenfell and the park gazebo
Please bring any tools you feel may be helpful
For more information:
Marilyn: mjbooth@sympatico.ca or 613 730-3879
To view program and register: http://ottawa.ca/en/residents/recreation-and-parks/recreation-programs

The Glens Community Association has signed with the City of Ottawa for the Corporate/Group Fitness Membership Program. This entitles Glens Community Association members and their families to the following discount options: (To qualify as an immediate family member, there must be a minimum of 1 adult up to a maximum of 2, and children that are 25 years of age and under, all living in the same household). following amenities are included in the All-Inclusive Membership* and for the One Option Membership, you may choose from one of the following:
Group Fitness
Squash and Racquetball
Indoor Cycling and Spinning®
Swimming
Aquafitness
* Public skating and wave swims are included in the All-Inclusive Membership only. 
Please note that all membership fees are based on CLASS A, 1 year, membership rates and provide access to all 23 fitness facilities. Membership fees may be paid in full or in monthly installments. The fees shown below are provided in the monthly installment format and include the discount and HST.
CLASS A facilities typically have more amenities than CLASS B facilities.
The Nepean Sportsplex is the fitness facility nearest to the Glens. It is a Class A facility with many amenities including a swimming pool, skating and curling rinks, gymnasium, etc.
How can a member obtain a discounted membership?
Simply register in person at any of the 23 fitness facilities. Be sure to bring a piece of government issued photo ID (driver's license or passport), and a current Glens Community Association Membership card. Contact Marilyn Booth atmjbooth@sympatico.ca or 613 730-3879 to obtain your 2016-2017 Glens Membership card.
Memberships run from September 1 to August 31 of each year. Join anytime and only pay for the months remaining in the term. Membership fees may be paid in full or in monthly installments. (Fee information below).
For more information check::
City of Ottawa Corporate or Group Fitness Membership Program Fee Information
The City of Ottawa offers a 20% savings off our CLASS A, All-Inclusive or One Option memberships for employees or members of participating Corporations and Groups.
About the Program
Memberships run from September 1 to August 31 of each year.
Join anytime and only pay for the months remaining in the term!
Membership fees may be paid in full or in monthly installments. The following fees are provided in the monthly installment format and include the discount and HST.
All Inclusive Memberships
Includes:
 Weight and Cardio Room
 Aquafitness, Swimming (including Wave Swims)
 Group Fitness
 Squash and Racquetball
 Indoor Cycling and Spinning®
 Public Skating
Monthly Fees:
 Adult – $ 36.13
 Senior, Student, Youth – $ 29.40
 Children and Parent(s) – $ 65.10
One Option Memberships:
Choose one of the following:
 Weight and Cardio Room
 Aquafitness
 Group Fitness
 Squash and Racquetball
 Indoor Cycling and Spinning®
Monthly Fees:
 Adult – $27.85
 Senior, Student, Youth – $ 22.38
 Children and Parent(s) – $ 50.08
One Option Swimming Memberships:
This membership includes access to all swimming excluding wave swims.
Monthly Fee
 Adult – $21.67
 Senior, Student, Youth – $ 9.96
 Children and Parent(s) – $ 40.04
Memberships available at all of our 23 CLASS A and CLASS B facilities. Visit our drop-in activities page for a listing of Aquafitness, Group Fitness and Indoor Cycling classes as well as our Public Skating and Swimming hours.
Discounts do not apply to programs or services outside of the above noted memberships and amenities. For example, swimming lessons, registered programs and children's camps are not included.
WAT
ERSHED CONDITIONS STATEMENT
– Drought Update Drought Deepening Again June 16, 2016 –
Moderate Drought severity has been reached in the southern parts of the watershed. However, the drought severity overall in the watershed is still Minor but is expected to reach Moderate status late next week. Residents on wells will need to use water conservatively. Municipalities may invoke water use bylaws and residents should find out what bylaws are in effect in their municipalities regarding water use as well as outdoor fires. In order that we can track impacts of the drought conditions in the watershed, we request that any individuals or businesses in the Rideau Watershed who may be experiencing difficulties with their wells please contact the Conservation Authority by calling 613-692-3571 or 1-800-267-3504, ext. 1128 or 1132.
For Ontario's Low Water Response program visit:
https://www.ontario.ca/page/low-water-responseprogram.
A city-wide burn ban is currently in effect.
GLENS COMMUNITY ASSOCIATION
"RAIN TAX AND OTHER IDEAS"
Be There if You are Concerned
Monday, June 13th, 2016, 7 P.M.
The MET,  (Metropolitan Bible Church)
2176 Prince of Wales Drive
       NEW "RAIN TAX" COMING TO THE GLENS  
       TO PAY FOR STORMWATER SYSTEM
The City of Ottawa can't meet the full costs of the stormwater system. The system exists to handle runoff from rain and melting snow. It is currently paid for by a levy on water bills for homes on municipal services. The City wants those of us on private services to pay, too.
MOST HOMES IN THE GLENS ARE ON PRIVATE WELL AND SEPTIC. WE PAY A LOT OF MONEY TO MAINTAIN OUR PRIVATE INFRASTRUCTURE. IT IS NOT FREE.
We are like 45,000 homes and businesses in broader Ottawa who do not contribute to the cost of stormwater infrastructure. The City is consulting residents NOT about whether we should pay for the infrastructure but on HOW we should be charged for it.
IT'S ALREADY DECIDED, WE MUST PAY UP! THE ONLY QUESTION IS HOW MUCH THEY CAN SOAK OUT OF US. IT'S A MONEY GRAB, PURE AND SIMPLE.
Flat fee option – The cost of stormwater services are divided equally among all property owners in Ottawa. Everyone is charged the same fee that the City will bill you for. May be most equitable solution, but collecting it will be expensive and inefficient unless included on tax bills.
Variable fee based on property assessment – Property assessments have nothing to do with how much runoff we have. Properties surrounded by concrete and asphalt produce lots of runoff. Homes in the Glens soak up the runoff. As well, stormwater infrastructure is poor in the Glens compared to most residential neighborhoods. This option is simply not fair.
Variable fee based on how much runoff you have – Fee based on property's average impervious surface area (i.e., how much rainfall you soak up and how much runs into the stormwater system). Rate will vary depending on whether you live in a single detached home, a townhouse (includes duplex, triplex and semi-detached), or an apartment. A very simplistic and inequitable option. For ex., detached homes in built-up neighborhoods depend greatly on the stormwater system, but those in the Glens not at all.
GET INVOLVED:
Attend Open House on April 7, 2016, 7:00 p. at Nepean Sportsplex
Write: City Councillor Keith Egli at: ward9@ottawa.ca, or call his office: 613-580-2479
Write to: David Chernushenko (Chair, Environment Committee) at: David.Chernushenko@ottawa.ca 

LOOK AT OUR PRESENTATION AT:  GCA – Presentation to Keith Egli
On October 16th community leaders met with  Mayor Watson and Councillor Egli to  encourage open communication between communities and  the city's elected officials.
On October 17, community leaders and various sports groups  gathered at the MInto Field.  Mayor Watson and Councillor Egli cut the ribbon to the newly refurbished field. Special cake looking like a  new field was presented.
WILDLIFE IN THE GLENS
Ottawa's abundant green space means that it is home to a wide variety of wildlife.  This includes coyotes.  Coyotes will be more readily spotted during the winter months given the lack of foliage and because they are following their primary food source which is mice.  And, as we know, mice are attracted to shelter around our homes and sheds during the cold months. Coyotes will also be noticed in fields on the Greenbelt or along roads bordering these fields.  They are extremely tolerant of human development and adapt readily to living in close proximity to humans and traffic.
There are a few basic rules you need to know in co-existing with coyotes, particularly at this time of year:  Keep pets safe, that means walking dogs on leashes.  Pick up your small dog if you see a coyote. Never leave dogs or cats unattended when outside.  Don't feed coyotes, whether intentionally or unintentionally.  Remove or secure any food source, including garbage, pet food.  Remember bird feeders attract birds and small animals, which can also attract a coyote.
Discourage bold coyotes by making noise, waving your hands, clapping and shouting.  If you encounter a coyote while walking in a natural area, don't run, rather wave your arms and make noise until it retreats.  Be 'Big, Bad and Loud'.  We can enjoy wildlife while reducing risks by respecting each other's space.
Living with Coyotes Brochure – Feb_2015
COMMUNITY MAILBOXES (CMBs) COMING BY OCTOBER 19, 2015
   Canada Post announced today that Glens door to door delivery will end next year. The switch will begin for postal codes that begin with K1T, K1V, K1Z, K2C, K2E, K2G and K2H. Expect an information package in the coming days. The package contains the survey and it will help in planning the location. 
The map can be found at:  https://www.canadapost.ca/cpotools/apps/cmb?execution=e2s2 
My father proudly served our country
STEPHAN ROBERT KLOVAN      More from Stephan Robert Klovan
Published on: November 8, 2014
August (Gus) Klovan with his sister Agnes in downtown Edmonton in 1946. Reaching the rank of Wing Commander, Klovan served as an officer in the Royal Canadian Air Force , 1943-65.  Courtesy of / Stephan Robert Klovan
It really is a privilege to live in our beautiful city Ottawa, which we too often take for granted. This is especially true when November rolls around and we all begin to focus on a very important date, Remembrance Day. We are constantly reminded of the upcoming Nov. 11 ceremonies as we pass by so many in our nation's capital prominently wearing bright red poppies.
It's even more significant to those of us who have family members who have proudly served our country by enlisting in the military. My father, August Klovan, willingly protected Canada as a Wing Commander in the Royal Canadian Air Force during the Second World War. And every fall, as Nov. 11 approaches, we discuss as a family the importance of his role in our nation's history.
When his younger sister, Agnes, sadly passed away at age 88 in Louisiana a couple of weeks ago, it compelled me to sort through our family photos and archives. Luckily, I came across an amazing vintage candid photo of them walking side by side in downtown Edmonton (circa 1946). Although my aunt was a civilian, she also assisted the war effort in her own way, even working as a "Rosie the Riveter" on an ammunition assembly line.
Fortunately, my dad is still alive and in relatively good health at age 91. As a family of a Canadian war vet, we are paying very close attention to the upcoming Remembrance Day ceremonies at the National War Memorial with great interest and passion. This year is especially compelling and poignant in light of the recent tragic murders of Warrant Officer Patrice Vincent and Cpl. Nathan Cirillo. Plus, 2014 marks 100 years since the beginning of the First World War — a conflict that changed the course of history.
In my world travels, I have always told everyone I meet that Ottawa is a "beautiful, safe, clean and green city." Regrettably, now, after last month's horrific attacks on our homeland military, I will no longer be able to include the word "safe" in my description. However, this has also galvanized my friends and I together so that we will never forget our past in the hopes of preserving our country's future peace and freedom, that we so often take for granted.
Stephan Robert Klovan, Ottawa
The lights are on:
Pedestrian crossing lights at Merivale & Amberwood were switched on at 9:45 A.M. July 23, 2014.